---
The BIGGG Tesla Coil
Constructed and Operated
by
Kevin Eldridge
---
One of the requirements for larger Tesla Coils is a little land and understanding neighbors, I am blessed to have both of these.

The Biggg Coil was running around 33 kW last year using 2 distribution transformers in series for 14 kV @ 15 kVA. The actual voltage out was a little higher as the measured input voltage to the transformers was close to 300 volts. Power control is basicaly a stack of 1256 variacs for inductive current limiting and the standard switching/monitoring system capable of 200 amps. High voltage is run underground to the Coil base as well as control wiring.

The secondary Coil is 10' x 2' with 6000 feet of #14 stranded THHN wire. An 8 foot toroid tops off the coil. Performance as of last Fall recorded the longest point to point spark of 26.5 feet to the corner of the shop. I do expect to pass this length this Spring with some new distribution transformers capable of higher voltages.

The Tesla Coil "hanger" is 10' x 10' x 20' and the Coil rolls out on a pathway with its 8" wheels. Complete ready time to operate is around 5 minutes. The system is very stable in operation, just flip the switch and run. No racing sparks or other unwanted problems.

Dave Wightman and myself are fortunate to have many different local sources for pole pigs, variacs and other high power related equipment for rock bottom prices. It's almost like our Tesla Coils are meant to be :}

Kevin E

OTCB (Oklahoma Tesla Coil Builders)

Friday, March 28, 2003
---
---
The BIGGG Tesla Coil Movie
July 21, 2001
(6:46)
Filmed, edited, and converted to Video CD
by
Ted Rosenberg
Converted to MPEG4 (DivX)
by
Terry Blake

---

Ted Rosenberg took a trip to Oklahoma to see Kevin's BIGGG Tesla Coil. He filmed the coil setup and operation.
Ted then created an excellent video CD (MPEG1) of the BIGGG Tesla Coil. The entire movie is almost 7 minutes long, and takes up about 70 MegaBytes of space on a CD.

Gotta have the entire 70 MegaByte MPEG1 file?

Ted graciously provided a copy of his video CD, to drastically reduce the file size using the latest MPEG4 compression algorithms.
I got it down to 11 MegaBytes and broke the movie into two parts; the coil setup and the coil running.

These files are in format MPEG4, also known as DivX. To view them, you need to download and install the latest DivX player.
---

1) Download and install the DivX player and CODEC

Go here for the absolute latest DivX Player and CODEC for Windows.
Select the free version WITHOUT Adware.
Click the download button.
Save it to disk and then execute the install program.


3.0 MB
---- OR ----
Go here to download the copy from my server.
Save it to disk and then execute the install program.
DivX502Bundle.exe
3.0 MB
If you have a slow Internet connection, make sure you have the player installed OK
before you waste time downloading the rather large DivX files.
You can download the short version of the BIGGG coil to test it.
---

2) Download the DivX files to your hard drive

For Windows 98SE and Internet Explorer 6.0;
RIGHT click the URL, select "Save target As...", and pick your folder.

This is a short (edited) version of the entire sequence for slow Internet connections.
Use this to make sure the DivX player is working.
biggg_short.avi
1.5 MB (0:55)

This is the full version of the entire sequence, in two parts.
biggg_setup.avi
5.3 MB (3:11)
biggg_run.avi
6.0 MB (3:35)
---

3) Play the DivX files

If installed correctly, the DivX player should be visible as an icon on your desktop.


Activate the DivX player with a click or 2.
This is what it should look like.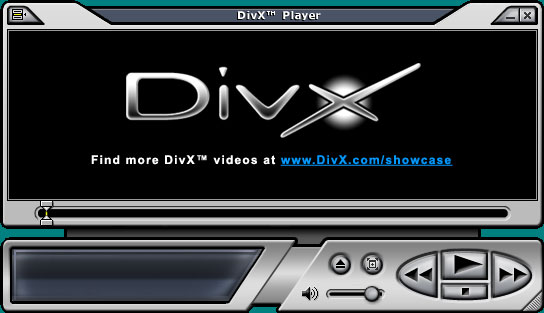 Click on the upper left thingy of the player, options, then set playback quality to maximum (assuming your CPU is fast).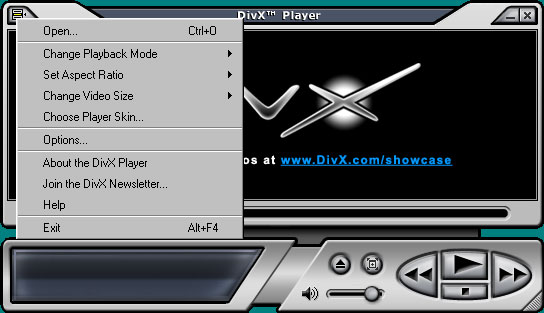 To play a file from the player, click the upper left thingy, select open, and then select the file.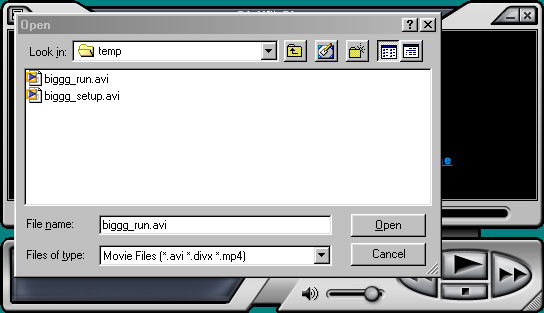 Grab the lower right corner to grow the screen.
Now sit back and watch the show.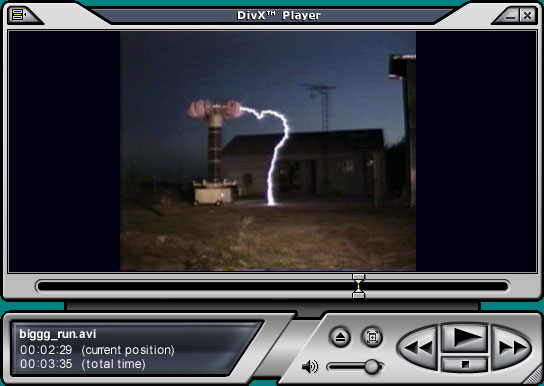 !!! THIS COIL IS AWESOME !!!
---

Additional notes

Most of my testing has been done with Windows 98SE and Internet Explorer 6.0.
I have had some issues with Netscape, so try IE if you are having problems and using Netscape.

Once installed, the CODEC can be used by other media player programs.
Windows Media Player, WinDVD, PowerDVD, etc, should be able to play the files.

The CODEC quality for these players can be adjusted by going to;
Start->Programs->DivX Codec->Decoder Configuration
and making your adjustments.
---

Ted worked extensively with me to improve this webpage.
Please send us your comments.

Email Kevin Eldredge kreld@flash.net

Email Ted Rosenberg Ted.Rosenberg@radioshack.com

Email Terry Blake tb3@att.net
---